Let's give back, together.
Join us in helping support local small business and non-profit organizations during this challenging time. We will match up to $10,000 of your donations or gift card purchases to small businesses through the end of the year. With your help, we can give back to the community we love so much, and help keep Santa Barbara thriving.
---
How it works:
Email us at GiveBackSB@SantaBarbaraHomes.com with proof of your donation or gift card to a local small business. This can be a receipt of your purchase, an email confirmation, or a photo from your donation. Also, include a sentence or two on why you chose to support that specific non-profit or small business.
We will send you an email with proof of our match to your donation or gift card.
That's it! Together we will have made a small impact on Santa Barbara's small businesses and non-profits!
---
FAQs:
Does any small business count?
Any small business that employs or contracts more than 3 people and is locally owned and operated in the city of Santa Barbara will be eligible.
Is there a limit that I can donate for matching funds?
We will match individual donations of up to $500 so that multiple businesses can be included in #givebacksb.
If I buy a gift card to a restaurant for $50 and your team then matches it, what do you do with the gift card that your team bought?
We will be donating all gift cards to local families that have been affected most during this time.
My friend is a massage therapist, can I buy a gift card to their business?
Unfortunately, we are focusing on small businesses that directly employ or contract more than 3 people. We would love for you to choose another small business that you care about.
I want to make a donation to a charity in Ventura, will you match it?
We are focusing our efforts on small businesses in the city of Santa Barbara for the time being.
---
About The Bartron Group:
For over 30 years, our team has helped clients find the perfect place to call home. Now, more than ever, we are learning the true meaning of what home means to each of us. During this uncertain time, we are doing our part to make sure that our clients and community find comfort, security and peace of mind where they lay their heads at night.
Navigating an uncertain market can feel overwhelming. But time and again, we've seen the Santa Barbara community come together to support each other. During the recession of the 90s, the financial crisis of 2008, and the recent fires and mudslides that devastated our county, the Bartron Group has been here, standing by to help our clients prosper and come out stronger after it all.
As always, we are here for our clients, friends, and community. Sending you and yours hope and well wishes.
Lorie, Chris, Beth, Elisa, Jake and Jessika
(805) 563-4054
Team@SantaBarbaraHomes.com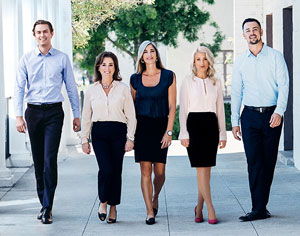 ---

TERMS & CONDITIONS:
This initiative will begin on April 6, 2020 and end on December 31, 2020. If a submission does not meet our elibility requirements, we reserve the right to exclude the dontation/purchase from our give back initiative. Donations or Gift Card purchases must be made toward a non-profit, charity, or small businesses that employs or contracts more than 3 people and is locally owned and operated in the city of Santa Barbara. One donation or purchase of up to $500 per person only. ©2020 Berkshire Hathaway HomeServices California Properties is a member of the franchise system of BHH Affiliates LLC.